what helps you with stress?
How have your strengths help you to pass hard time?
I just wanted to kinda vent to everyone but cause I'm upset. I have a friend I've know over 10 years we met on twitter when we were teenagers and we remained best friends more like sisters. So I finally decide I'm going to go fly over to meet her so we can finally do things together. Every time I message her about dates no response. She avoids every question. Yesterday was her birthday and made her such a long nice post on Facebook. She's not even like it or anything but has liked everyone else's. So I'm very upset because this stuff happens to me all the time I don't know why. I try to be the best person but friends still treat me like crap.
Tired of the financial stress
All the problems we have good be avoided if in school we learned to cultivate our inner being through meditation. It's already here; it's just waiting for you to connect with it
Anxiety woke me up and is keeping me awake 😩 I hate it. I can't help anything at 1 in the morning. I just want to sleep! I'm so over life, it's too much!
I had one at work yesterday
Does anyone else have that everyday sometimes , like something catches ur breath for you and it scares u so u try to breathe threw it
I m living with my toxic mom n dad with my toxic join family place I want to leave the home but I feel can't due to health issues my body doesn't support me every hard work to pay my expenses it's very tough for me to pay expenses now if I leave I home how can b How much tough 4 me? I don't understand nobody wants to support around me my disease can curable if I get personal attention every time but due to surrounding and with mentally damage my dad I couldn't figure it out to go ahead or conclusion or life stuck or my mind goes hang I don't know how to move on . I try to find people who support me till my recovery of my disease now has been years take place n nothing improvement more than personal expenses like food n daily needs, what I do I don't understand. Even I try to find life partner but nobody want to take risk for life to get defeactive partner . But I believe I can recover with help with enough money n person b( good doctor). I can only focus without toxic family . I can focus only by leaving alone to go solitude for while but need support.
One of those nights where my Anxiety medication keeping me up.... If Anyone wants to chat I'm willing to Listen!! 🙂
Hey everybody! My name is Rebecca and I am so happy to be here. I struggle with anxiety/depression and am looking forward to helping support others and build my own support circle. Feel free to say hi/ send a connection!
Am I a bad person? I had plans with my friend tonight, she wanted to chill out & go for a drive. My other friend asked if we both want to go out for some drinks (which I'd rather do) my other friend replied saying no we are both chilling. But I've decided I want to go out but now my friend is annoyed at me.. it triggers me being in a situation like this
✨Here are 10 steps to love yourself again after a breakup from gratitude app. ✨ 10 Steps to Love Yourself Again ❤️ 1). Take your time with emotions 2). Don't pick up unhealthy behavior 3). Do all the things you loved 4). Forgive yourself 5). Give up hate and anger 6). Stay close to your friends 7). Work on yourself 8). Self-reflect 9). Free yourself from their voice 10). Practice gratitude for yourself
Be kind to yourself because-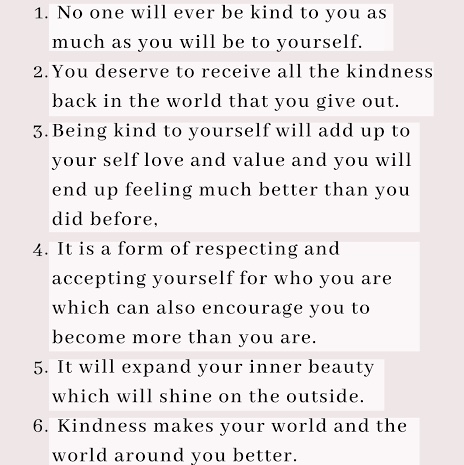 💜Affirmations for Anxiety💜 I have everything I need for a happy life. I am capable of solving any problems that face me. The feelings of panic are leaving my body. I have the ability to overcome anxiety. I am freeing myself from stress. I am free of anything that weighs me down.
Hi, does anyone else struggle with really bad with there memory especially short term memory? I'm really struggling with anxiety and bad memory, it's starting to get me down. Is there anything I can do to help it?
I have super bad anxiety over a long distance relationship can someone please message me
What if I told you that by learning and practicing one skill you could solve 50% or more of the misunderstandings that happen everyday. It's true! Listening is key to all effective communication. Without the ability to listen effectively, messages are easily misunderstood. Join us at Joyful Living Monday morning at 9 central time as we listen and learn.
It's hard having anxiety especially 24/7 I miss my momma and losing her just broke me down but the way I cope is every night before I go to bed I make sure she knows how much I love her it makes me feel better knowing that even if she's not around physically she knows how much she means to me
So I've been sick all weekend and idk if I should go to work tomorrow or tell them I'm sick. They usually make people stay home for 5 days unpaid and get a covid test if we have symptoms. But HR opens at 7 am and I have to start work at 7 am so idk if I should just go in or call them and see.
How do you decompress after having too many social interactions? I had a close family member get married this weekend and I was in the wedding and each evening was full of people and stress and I still feel it today and have to go to work but I just want to be alone and I feel overwhelmed
Today I find myself stuck in head my worrying about my upcoming coming doctor appointment on Wednesday morning about my anxiety medication... Even this morning I was second guessing myself bc i was having Brain Fog if I took my Anxiety med I'm hoping I didn't take it twice this morning bc I only take Anxiety medication twice a day one in morning and one at night...
tips for coping with an anxiety disorder: Keep physically active. ... Avoid alcohol and recreational drugs. ... Quit smoking, and cut back or quit drinking caffeinated beverages. ... Use stress management and relaxation techniques. ... Make sleep a priority. ... Eat healthy foods. ... Learn about your disorder