One of the biggest challenges I face at the moment is one of motivation. I have actually been feeling good recently for the first time in a while. Not over the top, manic good (tho it has been a little higher than usual so im keeping an eye on it). I'm feeling energetic and hopeful. I'm starting to enjoy more activities. I am excited about opportunities and interested in topics and hobbies that I haven't been for a long time. The problem I face though is that I know it won't last. I know that in a week, a month, maybe if I'm lucky 3-6 months (in my experience my high phases rarely last more than this) I will shift back into being low energy, disinterested and apathetic. When that comes I'll probably end up quitting hobbies, cancelling projects, potentially leaving a job (depending on the situation), stepping back from friendships, sabotaging relationships. So then I'm left with the thought of, if I am not going to be able to maintain anything why bother starting it in the first place. I know that's kind of a defeatist attitude. The idea of living life never actually doing anything just because of the possibility i won't follow through with it is a depressing one. But then again a lifetime of trying to live every time I go through a high phase only to shatter everything in my life when I go through a low also doesn't sound appealing. I really don't know what to do.
Has mood stabilising medication worked to improve your average mood or to minimise the extremes in your mood? Has medication helped you prevent having extreme moods such as manic, psychotic or extreme depressive or mixed episodes? You don't need to give specifics I'm just curious to hear from people who have found medication helpful for these purposes.
Is anyone up for a short chat?
take one day at a time. One hour at a time. Perhaps you'll find there is grace to make it through.
Does anyone in the bipolar community have any advice for someone who is very manic?
Is anyone online or available?
I used to work against my illness and it showed me hell, now I work with it. There is beauty to be found yet ❤️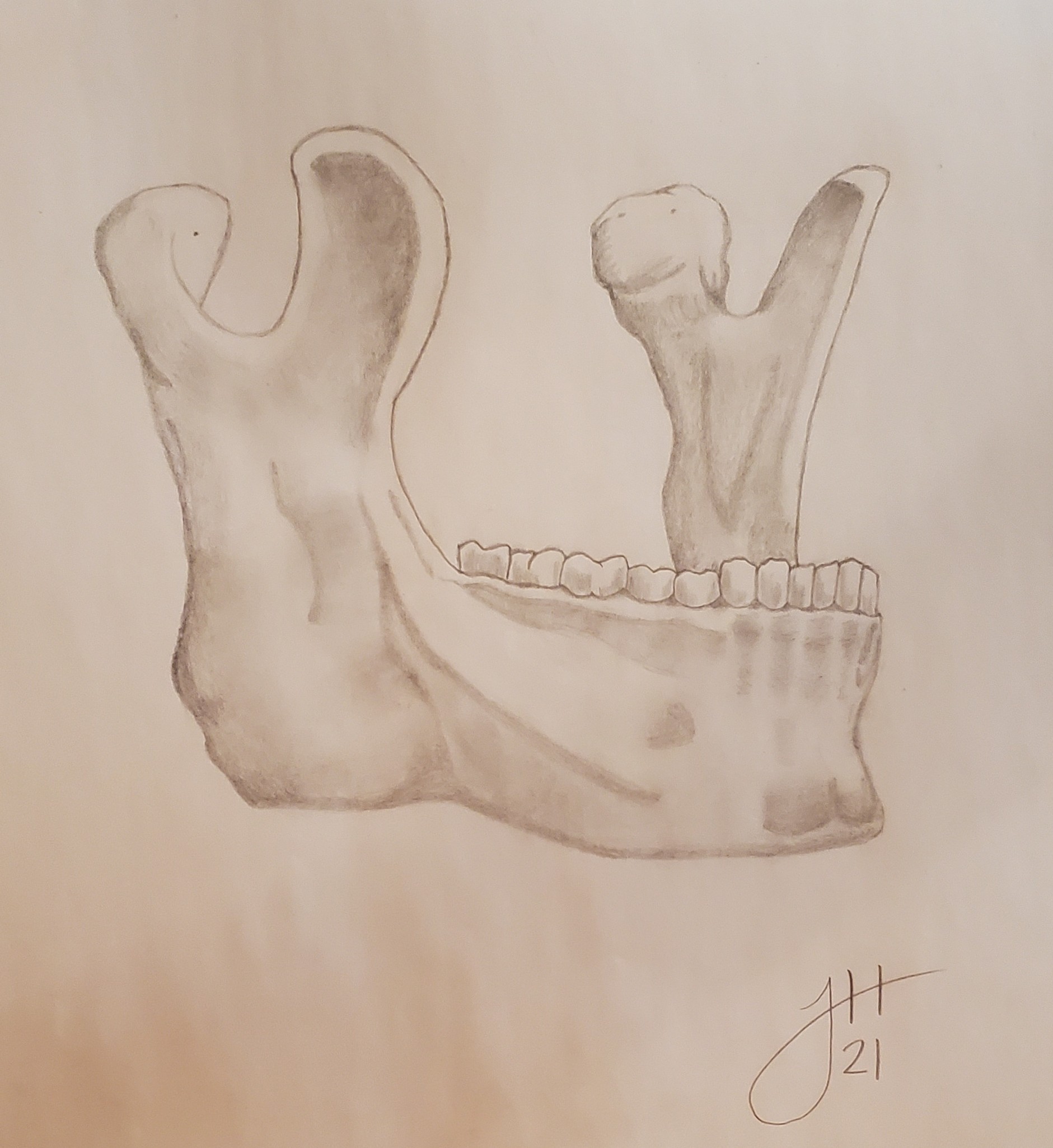 Anyone know any good distractions to help stop overthinking and disassociating?
Is anyone available to chat if so message md
I need an advice and a stable prospective: so in my uni site came out the possibility for signing and participate at the uni radio program. It would be a journalistic task than a musical once but I'm interested anyway. I'd like to apply also because I used to have a music blog but in this moment I'm going through hypomania so I'm scared I only wanna do it because I'm hypo and when it will pass I will end up feeling scared and anxious. Most of all I'd like to wait for the courses schedule before signing up. Obviously it's not sure they will choose me because they can only choose 20 and see if your uni CV it's pertinent with their standards etc... So I have time until the 14th of October. I don't if to send the application anyway and then wait for an answer if it's ok with my courses I'll go if not I'll say no thank you or do I wait until the hypo mania pass and choose from there on? The thing is I know that if the hypomania goes away I won't apply because I'm scared. What should I do?
I've been in a high phase for a few months now, not manic or hypomanic but also having more energy and motivation than usual so I've started making some more positive steps. Over the last week or so I started feeling really low out of nowhere, struggling to get out of bed in the morning, not eating at all during the day and then having takeout delivered at night. I was expecting that I was headed into another low phase and bracing for a long period of it but then a couple days ago I just started feeling better, again seemingly out of nowhere. I've never had a low phase like that, that lasted such a short time, usually it would be months at least. Is it possible that the medication I'm on now (Lithium) is the reason I shifted out of that bad phase so quickly? Or might there be some other reason I'm missing? Either way I'm really happy about it and it gives me a lot of hope for the future.
I've been called a "functioning" bipolar. I'm "functioning" due to treatment, and therapy for 2 years. I'm 44 and this last year was first year I've been able to hold a job. Many days I have to go to work and put on my happy face and mask depression, or I have to self filter my mania so I don't seem to hyper or talking or fight the urge to run in circles lol. And having to do that, sadly, pretty regularly made me feel fake. That's I'm just a broken mess that goes in the world pretending to be this person who is 'normal' . I always felt that the depression and mania was my true self. But one morning I had a thought, the depression and mania is part of an illness…my true self is that strong person that gets up each day for and battles through the bipolar. That is me, my moods are symptoms not my true self. So when you're struggling and feel like your faking your way through life, you're actually a very strong person with a will you fight.
Does anyone struggle with rage/anger? Mine is usually triggered by something small but the rage comes in fast and hot. Very hard to control .
No one I know has ever accepted and understood my disorder or why I act the way I do. They say I'm making excuses or not trying hard enough to be "normal" even my wife who has 2 mental disorders do not equate mine like hers and hold me accountable for my blackouts and episodes but doesn't take accountability for her owns. I'm alone even when I'm not alone. She loves my mania because it makes me outgoing and extroverted, until it lasts too long for her liking then she worries.
I need someone to talk to, having a bad episode
Hope everyone is well or trying to manage 🙏🫂🌟🔆
My pink fur slides fell apart I don't know what to do
an incident in my life has triggered an episode I feel sick I just have that feeling of impending doom. I'm having palpitations and a panic attack. I feel like I just make life worse for everyone the more I express myself. I can't keep my mouth shut. People annoy me way to easily and I react adversely regularly. I feel like I'm toxic to myself and other people and I feel so crazy. I don't know wether to cry or scream and I want to run away but I can't run away from myself. I just keep repeating in my mind 'im safe' I don't know what that's meant to be doing. I feel so disappointed in myself and unstable. I wish I had the means to just go and be with my feelings in a beautiful setting in order to heal myself. I can feel my inner energy is damaged from today. I don't know what else I can say. I just want to feel well, stable and healthy and I want to learn to be in control properly
One reason why beautiful places are so healing…is that they are part of us that is outside our own thoughts. And sometimes we have to get out of our thoughts as if they affect our bodies and hold ourselves hostage. Oh the waves of pain and anxiety we feel sometimes more than other times. 💙 You sound like you know yourself well and are allowing yourself to experience this swing knowing that you will get past it…but yes it so hard to be in a tough mental place. Hope everyday brings you to a better place.
Happy Halloween Yall! 🎃 hope everyone dressed up and had fun! 🐈‍⬛️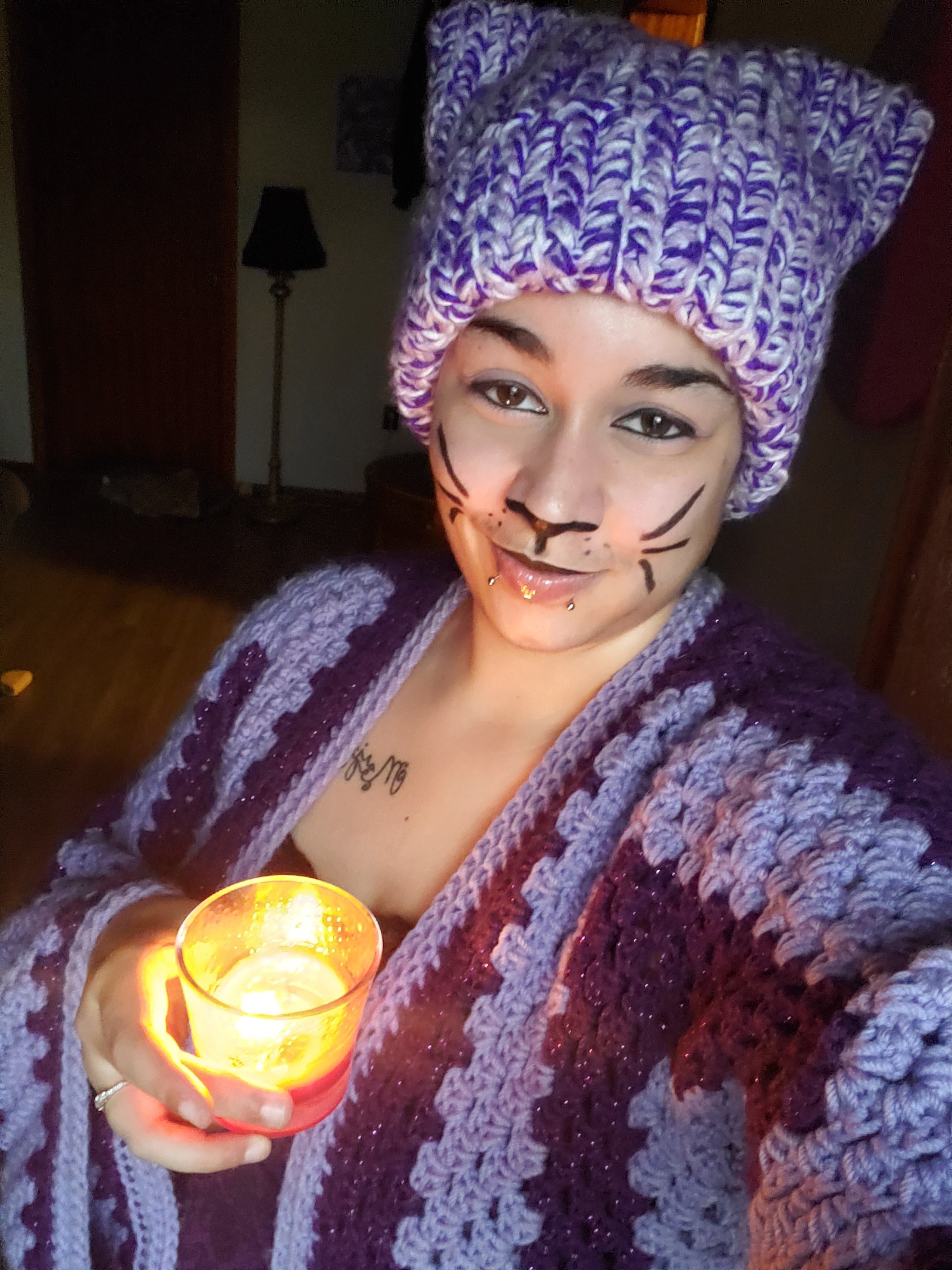 Something I wrote that I though I'd share. Self love is what I work on in every waking moment. I hope you fall in love with yourself.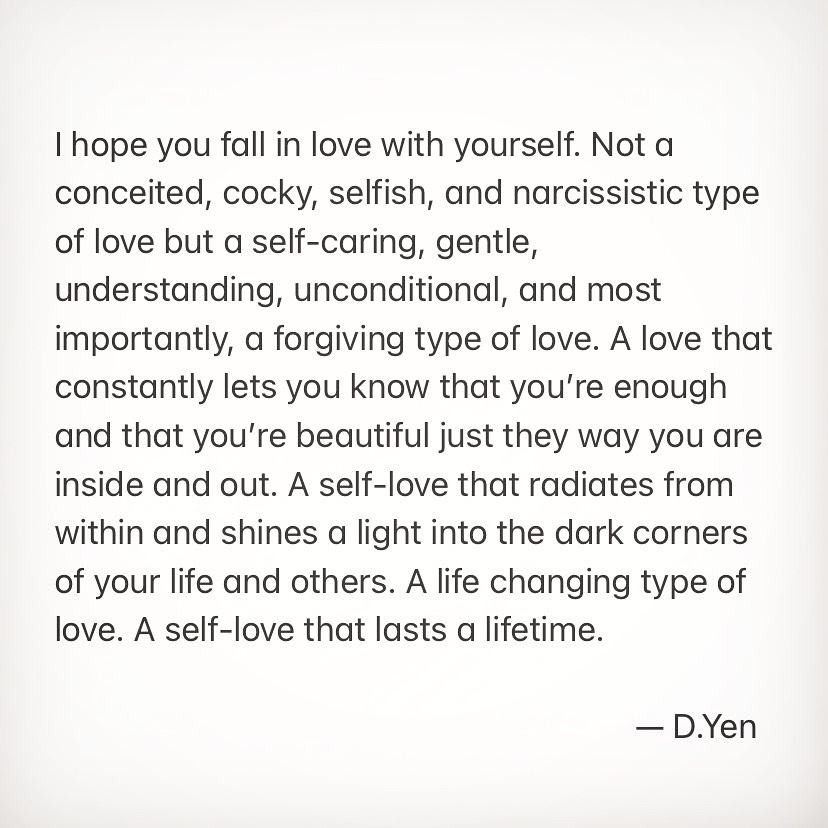 Keep having episodes right now. I doing know what to do