Just a question - Is there any way to find a post on a Wisdo community that I have written quite a while ago that I want to read the response that someone else had left for me? It was a very good explanation of BPD that was posted for me because I didn't know much about it. I want to share it with my family. Is there any way to find that post again? I just saw it a couple of hours ago and now can't find it.
Hey guys - I'm new here & look forward to getting to know you all🥳
Hello, I'm wanting to talk about bpd and being in a relationship. It's so hard! 😩
Should I quit my job? I hate it but only work it for the title/status (it's a good government job and people respect me so much when I tell them what I do) however I hate it I'd rather be a bartender
Hello everyone! I'm excited to be here and to get to know you all💜
#me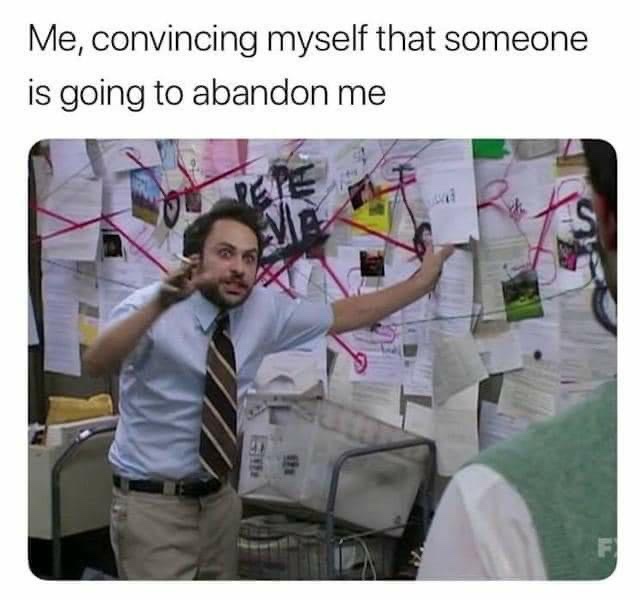 Aly, I am almost always here in the mornings until I start PT and then it will be later please message me if you need to talk about anything
Im struggling with going from sex to drinking to eating, etc.
If anyone wants to talk message me ☀️
do you think it is a good idea to let your new friends know that you have bpd ?
"When my heart breaks a little bit, I wanna drop dead," this lyric hit me deep! I think it describes a part of BPD so well!
I'm alone for the rest of the weekend. I don't know what to do. I'm so sad and I have no one.
I just need some comfort and company. But I don't want to be around anyone. I just need someone hold my mind and heart for a min while I feel like I can't. 😞
Not one to self diagnose but I did DBT (therapy) a few years back because of trauma and how it affected and still affects my life .. how I coped/cope with it.. my emotions being unregulated and to heal from all the toxic relationships and friendships I had. They kept bringing up "people with bpd tend to" and I never got a proper diagnosis but the group therapist would lead with that statement and it got me thinking.. am I? Maybe? At 14 I got diagnosed with major depression and generalized anxiety but I have had so many traumatic experiences with sexual abuse and assault and verbal and mental/emotional abuse since I was 8 till 22 and I'm 24 now.. I just feel like what I've gone through has been so complex that I may have ptsd or cptsd or bpd.. considering bpd stems from trauma and it's like a big part of my life.. a personality thing for me. I'm always questioning myself and my self image. A lot of you know me and I'm an active helper here! But I'm on this group for a little bit of a selfish gain. Would love to have people walk this journey with and to connect about this with me. I'm currently thinking of seeing someone to get a new diagnosis, a psychiatrist who will evaluate me. Anyways- hi! Nice to meet you all 🤗🙂🫶🏼
Does anyone have some healthy ways to deal with with borderline boredom connected to the feeling of emptiness? I have never really been impulsive enough for it to be harmful, but it is annoying. Trying to resist the urge to go on a shopping spree with the justification that I need new cute summer clothes to build a better sense of self and look cool to fit In with a certain group of girls that fit the typical 'cool instagram girl' image. Kinda embarassing lol
Should my FP know they are my FP?
I just completely lost my shit on my girlfriend, for no reason other than me just feeling a tiny amount of emotion towards a bad emotion, I lost grip of myself mentally for a second and that one second completely took over my entire mood. I hate myself for letting myself slip up, because I've been slipping up a lot lately. I know she says she understand my disorder and honestly she understands it more than me.. but I still feel so fucking bad for everything I put her through, she deserves way better than the ugly side of me, I just wish I could erase the borderline side of me so she could keep the side of me that treats her well with her at all times. I don't know how I'm going to but I'm going to fix this before I hear her upset one more time over my random outbursts over tiny little things. 😔 I love her way too much to keep hurting her..
Hello everyone! I'm excited to be here and to get to know you all💜
Hi I need a advice I have emotional unstable personality disorder anxiety and depression mixed with learning difficulties I have a new job now live on my own still doing things to help my self like going to the gym play Xbox do my book like 1 to 10 good and bad things diagrams like thought and feelings emotional and behaviour and I do dear diary keep tidying up my flat see my mum but the real problem is that I have had a Tone like an attitude since I was little when I was in foster care and I haven't got a solution how to control it and it is really affecting me in a way at the moment I don't know what to do I have been to the mental health team I just don't know what else to do in a way and I'm really low at the moment I feel like I'm fat and ugly and I am losing weight I don't know what else I can do so can I have the voice of how to sort out a time please thank you 😭😭😭😭😭