The struggle is real. It's been a real struggle mentally for the past few weeks but I'm still trying to push through. When people say stay strong mentally, that's kinda overrated. I realize that the past few weeks. Anyone ever get the feeling at times, it's just you against the world. Specially fams. Fams can can be the worst.
Going to start next week push myself to stop smoking completely. I've tried before with nicotine patches and nicotine chewing gum but didn't help much.
i just arrived in a new town in a new state. sleeping in the car for a day or two then camping and searching for land to buy so i can put down roots. but its tempting to drink a little when it gets late and im parked for the night 😕 i know i shouldnt and this is the time for a new start so im going to try to find an AA meeting tomorrow after i get all my stuff done. this is just alot of crazyness and change for someone whose life has been super boring the last 3 years.
So... I just broke 9-10 months of sobriety all because I had my heart broken/feelings hurt by a girl that I was talking to for a week. She had taken a selfie of herself sitting in her baby daddy's lap and he made it his cover photo on Facebook and I'm talking arms around each other and everything...I feel so ashamed because I've had gone through this feeling before (I'm always getting done bogus by women)
This year has been hell and I feel like the only things that helps numb everything is alcohol. I'm a functioning alcoholic and alcohol isn't the issue but I don't know how else to forget.... Even if it's just for a few hours...
😔😔😢😢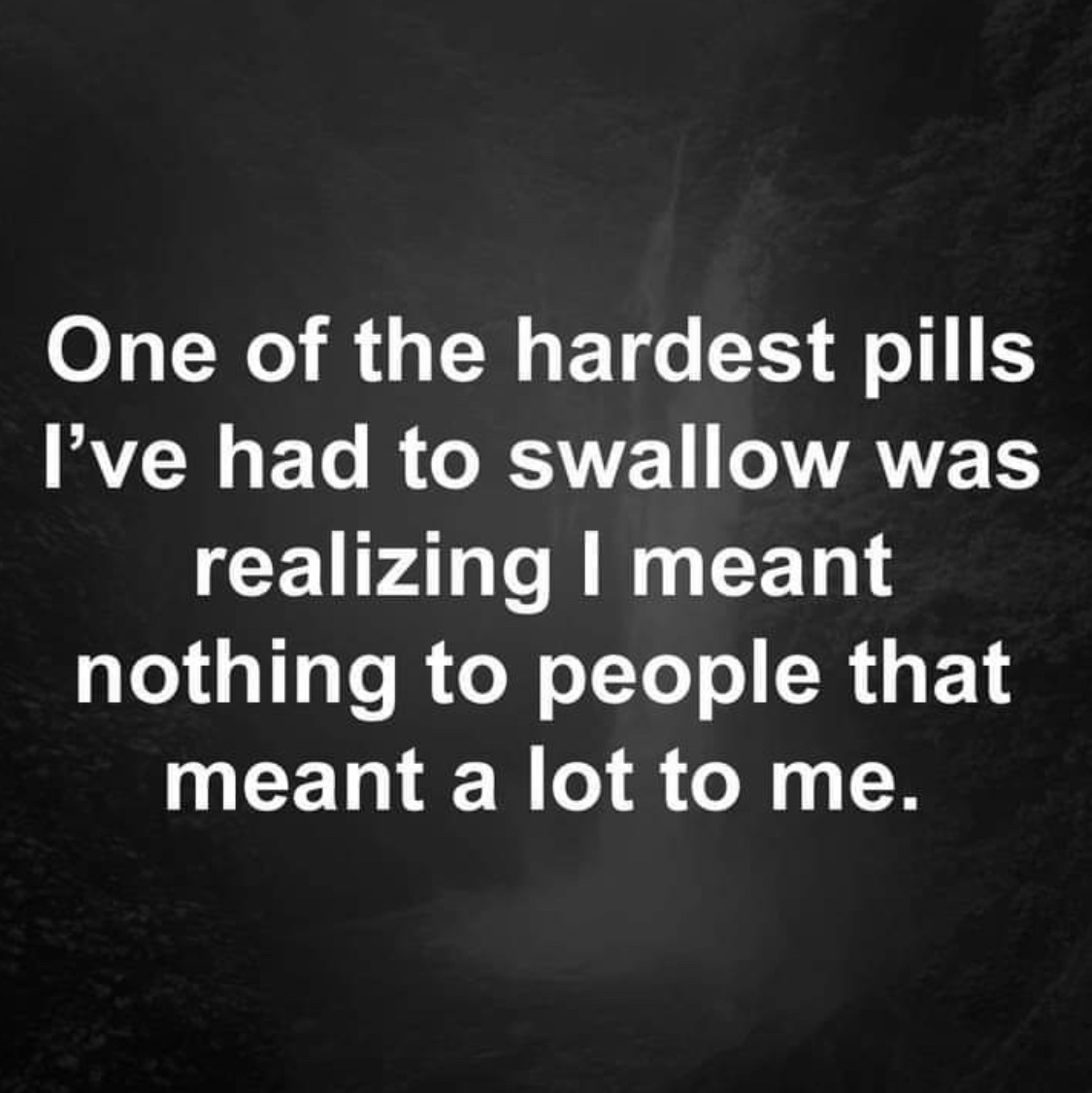 So, I'm a functioning alcoholic/drunk...have been for years. I was forced to get sober in 2019 because of a DUI. I had to lie to myself during that time that sobriety wasn't that bad and had to learn how to cope with "heartbreak" (I'm the type of person that falls insanely too hard too fast for someone) sober. I had thought that I did...UNTIL the court took me off of condition release (in home breathalyzer that I had to blow all zeros into everyday three times a day). As soon as I got out of the courthouse, I went straight to the liquor store and bought SO many bottles and broke that 9 month sobriety. Then I had to back to my hometown in my home state. Got sober for another 9 months and...I recently broke that all because the girl I was talking to for a week took a picture of herself sitting in her baby daddy's lap smiling with their arms around each other and posted it to Facebook...
My friends and I always have had zoom hangouts once every couple of months and we all usually drink. One of my friends has been dealing with alcoholism and has been sober for a couple of months now. Idk if it's insensitive if everyone still drinks of it they just put it in no obvious glasses so. Or maybe do where everyone can bring a drink and put it in a random glass or cup and it can be alcoholic or non alcoholic. What's the best thing to do? Or should I just ask her how she feels? I wanted to ask other people's opinions first before I go to her because I don't want to make her uncomfortable
go back to start do not pass go do not collect $200 - frig 🤡
You'll never leave where you are until you decide where you'd rather be. Everyday is a chance to get better 🥰
I know I have a problem.. now what?
I NEVER talk about relationship problems, but wow.. this one hits hard. I lost my mom 6 months into the relationship, and then my dad 10 months into the relationship. We've been together for a little over 2 years now, and he's giving up in claiming we may be "too different".... I feel sick to my stomach. Never thought something like this was going to happen, especially at my age now. I just want something to numb it all.
Daily affirmation: ✨I am a priority in my life. My health and healing matter.✨ Have a great day everyone! 😊
I am really trying to get my shit together and get sober. But I'm just so bad at life that it's stressful and I need to drink to not freak out over all the things that are going wrong. I don't want to fuck up my life but I feel like its inevitable.
Went sober for a month or two, I'm drinking again but only a beer or two, it's the second night in a row now though so I'm feeling like I should prolly chill
I'm a binge drinker and I was doing pretty good staying sober but this past month I went out with coworkers every Friday night. Every Friday I binge drank more and more. I just feel like I'm relapsing again which makes me think I'm letting everyone down and letting myself down so I feel like a failure.
Finally said the words and accessed help for my drinking. Saying those words, has definitely helped put a different spin on it all. It's almost like now, I've said it. I'm taking some power back. Anyway, the result was that they don't offer counselling, but should be able to start a medication that will stop cravings. I had counselling for several over things this year, which has helped me get to where I am. So, I'm not to worried about that. Knowing that I'm starting this medication within the next month is making me crave it more than ever. What do you all do to distract yourself and cope? I cut a lot of people out of my life, when I had a breakdown. I miss having people around me, but I've been hurt lots and not ready to revisit any of my past friendships yet.
Just a question to anyone who can answer, what does it mean if I tell people I want to stop and get better, yet not long after that I feel like I want to binge again and all of that. Does that mean I don't want to get better? And I'm lying about it, because I don't think I am, I'm just confused I don't know
I give up…I'm tired, I'm done…I cannot do any of this anymore. Between getting blamed for everything that goes wrong/loaded with so much work and overtime to taking care of my elderly mother…I feel like I don't satisfy nobody, so I GIVE UP…like I like to believe I got my depression under control, usually resort to healthier options (compared to tonight) sleep/eating), but tonight my depression led me to drink because I fool myself into believing the positive…nope, not tonight…depression got the best of me…so I'm here still drinking, not going to work tomorrow, still drinking…all because I had a "Murphy's Law" and my supervisor threatened my job, even though I "ACT" like I don't care about it
I drank alot yesterday. That's in the past now though. The $$ is running out and I am moving away in 6 days so I am trying to go to the gym everyday and stay busy. And trying not to dwell on the past or future or stress about other shit I cant change, that helps too.
I drank too much last night. Couldn't stand. In my home town so I'm sure people I know saw. My boyfriend had to take care of me, and everyone was concerned. I kind of want to die. Alcohol has ruined so many things in my life. I'm going to stop today. I'm horrified and so embarrassed. Does anyone want to stop with me? Maybe we can help each other. Lots of love to all of you…we're doing the best we can
Up for awhile if anyone needs to talk
No one knows I relapsed yet. It's already been about 3 weeks of drinking. I just cant handle having so much free time. I'm moving tomorrow so that will keep me busy for a while at least. It's hard to stay motivated to stay sober when youre burned out and totally indifferent and isolated because its just you and your crazy thoughts all day / night
I can't forgive myself for being a drunk :( I try to block out all the self hate and distract myself but today its really bad