Good morning everyone! 😊 Here's your reminder for the day. I try to remind myself of this when i find myself ruminating over the past. How do you cope with thinking about the past too much?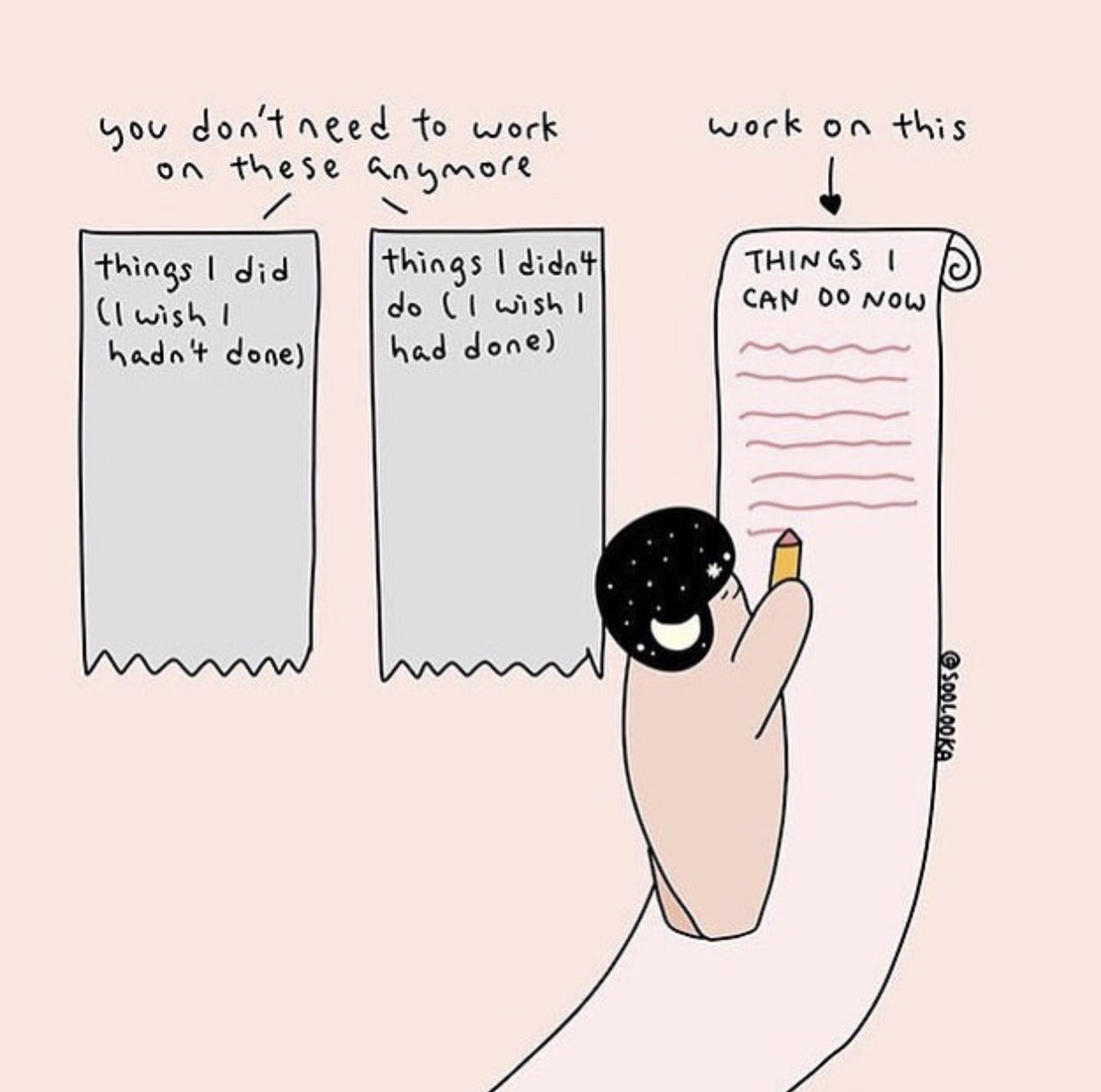 Stop negative self-talk. Be kinder to yourself, as you would be to a friend who was struggling.
It's been a rather hard week. I can't say how I truly feel except that I'm hurting and I'm tired of it.
I wish I could change my past and see if things worked out better, mainly my childhood as still today I got taken away from my parents due to alcohol abuse sadly my mum passed away years ago and my dad disappeared so I'm not interested in him anymore.
Hello! My name is Rebelkat and I'm a chatty insomniac with anxiety and depression, and I'm looking forward to making friends here who I can commiserate with :)
Depression. Why? I'm afraid of death. I'm jealous. I'm envious. I'm lonely. I'm selfish. I'm narcissistic. I'm self-centered. I feel entitled. I consciously do bad things. I want more but don't push myself to acquire more. I'm a liar. I'm a fraud. I see happy people and it's makes me sick. I see myself and I make myself sick. I hate my problems. I hate everyone's problems. I hate how the world is. I hate the laws that govern society. I hate the principles that govern reality. I love too much. I love too little. I overthink. I hate illness and death. I hate to struggle knowing that one day this will all end. I hate the idea that my potential children will struggle. I hate that children suffer at all. I hate the thoughts in my head. I hate that I can't make decisions. I hate my job. I hate my family sometimes. I love my family sometimes. I hate the situation I was born in. I hate celebrities. I love creating. I love destroying. I get tired of creating. I hurt when I destroy. I am evil. I am good. I am everything and anything. I hate not knowing. I hate not knowing. I hate not knowing. I HATE knowing. What comes after this life… This is a short summary of my depression. Manic. Bipolar. Alone. Different. Arrogant. Pretentious. Know-it-all. Lover. Fighter. Normal. Boring. If only I knew. If only we knew. What comes after this life. But that is the pain we endure. This is the happiness we are gifted. I'm curious about what comes next. I'm afraid of it. Will I remember this? Will all these memories disappear? Will the pain disappear? Will I be happy then? This is what destroys me. Will there be peace? Do you think I'm crazy? Do you understand what I'm feeling? Do you understand what you're feeling? That funny feeling. Like we've been here before. There it is. ❤️
I really think you can be happy now because you realize that it's important
How to move on after realizing how shitty you are, how insecure you are, how low you are? The problems you have. How to move on without feeling shitty.
How can one still feel lonely and depressed with all the resources in the world and an app full of people to relate to? Maybe it's because we're too busy feeling like a complete sack of *expletive* that we don't realize this. And it's kind of a vicious cycle isn't it? Feel like *expletive* makes you not care about all the love, hope, and opportunity in the world. And who cares anyways when we're just on this rotating rock so close to the sun that eventually everything will be burned to nothing. Who cares about the art and music that people created. Oh wait, TikTok is art and music now. Yeah, this is all useless. But I still care about my exes dog. This is dedicated to Chella. Wherever you are, I love you and I miss you. You were the dream doggy. Love ya girl.
💗Self-Care Quotes💗 "Lighten up on yourself. No one is perfect. Gently accept your humanness." –Deborah Day "The only person who can pull me down is myself, and I'm not going to let myself pull me down anymore." – C. JoyBell "Of all the judgments we pass in life, none is more important than the judgment we pass on ourselves." – Nathaniel Branden "Self-care is how you take your power back." – Lalah Delia
Why are people curious? They need to stop being curious. But whatever, they don't want to know my beliefs. But I just think that being curious is gross because that's asking for it to happen.... and that's gross... nobody wants it and nobody should want to know....
But then again, I think too much into everything and always will. I think too much into all the very details of everything. And I'm not going to say anymore.
But don't stop believing in whatever you believe in.
I think bad thoughts about everything and everyone all the time. I'm always soooo skeptical and overthinking about everything and everyone all the time.... jobs too!! Business leaders, corruptions happening all over the globe. Crimes. Maybe someone, someone else knows is a serial killer, what if my neighbor is a serial killer, and is secretly hiding it. Maybe I have a neighbor in a secret mafia or something and not know about it. I'm always thinking soooo negatively. I hate it. I hate all of it..... I don't think I can make it stop though, but that's alright I guess.
Everything is going to give me a panic attack. Maybe I'm over exaggerating, but I really think soooo.....
"I think music in itself is healing. It's an explosive expression of humanity. It's something we are all touched by. No matter what culture we're from, everyone loves music." ― Billy Joel. Sundays with music ⭐️
I went to the hospital today to see a cousin that was dying. He had lots of family there to see him. When I got to see him, his sister was holding his hand and crying. I've lost a friend & cousin this year. During both it made me realize that people don't appreciate the people they have in their lives until it's too late. Take the time to catch up with old friends, always be nice to strangers, always try to be there for family because you never know when their last day on earth will come. Above all always love, never hate. 🥺
So I've been sick all weekend and idk if I should go to work tomorrow or tell them I'm sick. They usually make people stay home for 5 days unpaid and get a covid test if we have symptoms. But HR opens at 7 am and I have to start work at 7 am so idk if I should just go in or call them and see.
Hey all, I've a quick question- How has Wisdo impacted your life ? For me, it really helped put things into perspective when I was feeling lost. I was able to deal with my feelings and found comfort knowing that I wasn't alone.
Does anyone ever feel like, "why was I born into this mess" ? Not a single person alive was given the choice to be alive. So don't tell me that life is a blessing. Don't tell me that things will get better. Don't tell me that I need to find a purpose. Don't tell me to clean my room, eat healthy, self develop, find a career you love, explore your passions, go to the beach, go on dates, play video games. Who are you to tell me all these things? Because you feel this pain that I feel? Because you can relate to this life that I live? Because you know exactly what this feels like? Are we just one big circle of encouragement because of the situation that we've been put in by our parents, and their parents, and their parents parents? We does it matter that any of continue this way? We are so far removed from each other that a single life would make no significant change. It's a vicious world of competition and staying afloat. We would choose to save ourselves and our families before ever considering each other. But I'll tell you this… This hell that we are living in is much more pretty than the potential hell that could be. And that is why I side on helping each other, even though it may seem futile. This is a much better reality than viciously hunting each other in the wild like animals. No doubt, we are still far far far from a perfect society, but isn't this a better poison over living in an animalistic environment? We are more civilized than times before us, but we still struggle to find a way where we can all live in peace. And I hope the balance tips towards peace. The world leans towards peace, maybe because of fear. But this is much better than any other alternate reality, at least one that we cannot conceive of. The fact is that a perfect world does not exist. A perfect world will never exist. As long as life and death remain variables of reality, there can be no such thing as a perfect world. The world is the way it is. That's it. Maybe one day Elon will flip a switch to change our consciousness with his neurolink endeavor. And everything will truly be perfect in the true definition of the word. Maybe then we won't have fear, pain, loneliness, sadness. Maybe it's time for a restart in the system. An update to the OS. If that's what God is, we shall see what the outcome will be.
Can people just let me do my job and stop harassing me. What is with old people harassing me all the time...... what problem do they have with me??? What did I do to them??? Can't they just stop........😩😩
I'm perplexed because I have no idea what's going on in my head and can't articulate it. I drink and smoke marijuana to dull the pain and prolong my suffering. I'm not sure what I want to do to fill these empty hearts; it's like looking into a broken mirror.
It's sooooo stupid...... 🤦🏼‍♀️🤦🏼‍♀️🤦🏼‍♀️
Wow it literally says nothing but a rainbow..... what the h*** is going on..... 😆😆 okay then. I guess it just wanted the rainbow I guess.... okay, here's to you rainbow 🌈. ..... stubborn rainbow.
I'm always waiting for Friday because literally everything sucks. I know I'm being overdramatic though. I just always constantly feel like I hate everything when I'm working because nothing makes any sense when I'm working. Even when we try to solve problems, the problems are never solved. And then my brain hurts, so I don't want to think anymore. And on top of it, customers harass me on a daily basis..... thinking "oh my attitude is wrong or my tone is off" I'm always apparently doing something wrong. The wrong look, the wrong action that I didn't know of as being offensive or whatever to them..... just saying Hi. Whatever apparently sets them off. Even the wrong stupid smile..... 🤷‍♀️🤷‍♀️🤷‍♀️🤦🏼‍♀️🤦🏼‍♀️🤦🏼‍♀️ go ahead people, make stuff up. Say whatever you are going to say. Take your stuff out on me. Go ahead, my brain already wants to give up when I'm working here...... so keep going, keep making stuff up about me that I'm apparently doing wrong. You'll do it anyway. Do it.....
Just keep harassing me..... everything is my fault.... blah blah blah...... fine. I'm just doing my job..... why do you people have to have such a high might stupid pity ego.... grow up.... oh wait you are already grown up, you have gray hair and wrinkles, then act your age..... stop giving everyone such a hard time when we are all just doing our jobs here...... 🤷‍♀️🤷‍♀️🤦🏼‍♀️🤦🏼‍♀️🤦🏼‍♀️ I swear everyone is out to get everyone.....
And everything that I do is just not enough. Wrong career..... whatever I do to my room is never enough, it never looks good enough to me..... I'm annoying everyone else probably, I know it. I still live with my parents...... my boyfriend wants to wait a year because he's worried about the unpredictability of life with his career...... everything is never enough..... I have to solve it. I'll solve it eventually. It's just a slow process but I know that I'm annoying people in the process. I always worry that I'm annoying everyone.....
If I just solve my problems, slow and steady until in the clear......
Wide awake it's nearly 5am need to be awake in three hours to do stuff, tried sleeping earlier never worked also took a bath but didn't help either.
For the last few weeks my mother has been really really horrible towards me. She's been telling me how I'm not good enough and I don't do enough… I work 40-50 hours a week I'm trying and I'm exhausted. I'm tired of everything. I told her I was suicidal and she laughed… she laughed… I'm doing the best I can… I'm really trying and I just really can't do it anymore. I don't have anywhere to go so I don't even have a way out. I'm so exhausted physically mentally and emotionally.