And we share the same birthday
Today was national day of remembrance for homicide victims so me and my husband went to that so we could honor my daughter
Hi everyone 😊 I had a time trying to find the best CBT treatments to relieve my grieving state. Except I dont know who to go to (besides the LORD Himself) to internalize appreciation
Today is 24 years (10/5) anniversary of my Grandma EthelMae passing/ car accident Anniversary. I already have cried today thinking of her because my uncle for his 70th birthday got a painting of of her and her great grandchildren ( that she never met) my Aunt Post in on Facebook seeing that photo made me instantly think of her and miss her. This day hasn't been easy for me to handle since I was little... 😭
Just last month one of my online biker friends was killed in a fatal motorcycle accident it was the same day I was on my seadoo my friend was married twice and have five kids
Grief/loss comes in different forms, and everyone experience it in different ways. I have lost close loved ones that took me on long journeys that allowed me to understand what I was going through, find help and coping skills for me. I have also loss and grieved over personal life changing moments that felt nearly impossible to figure out what happens next. Im still here and much stronger mentally, physically, emotionally, spiritually. So, that I can be of guidance and pour into others as you pour into me. Just because you have went through something, does not me your journey ends there, and we continue to learn each day, that's how we continue to become the best possible selves for our own self. Let's do this together 🌹
Just wanted to say stay strong and if youre going through it, i hope you make it out. 🤍
Hi there 👋 I'm new here - feel free to introduce yourself!
Hello everyone! I'm new around here. My Dad died a few years ago and I have been struggling to cope with it ever since.
Anyone experiencing OCPD? Join the subgroup I've created by searching 'OCPD' under Groups. Let's support one another to combat this diagnosis. You are not as alone as you may feel. Much love and light y'all 🖤
Hi! Nice to meet everyone here I'm Lilly
Hi there 👋 I'm new here. I'm currently unbottling a lot of things with myself from recent to long ago to facilitate my hraling, but it feels really good to know that theres a support community like this out there.
my name is bella ! i look forward to helping everyone & myself
The holidays are coming up and I just my Grandma back more than anything. 😟
I really love the Wisdo friends I've made and continue to come across. You all and you sharing your stories is so comforting to me. I now understand that I am NEVER alone in this world. I have myself and you all in spirit. Much love and light. Feel free to direct message me if you need a friend, I'm here ☺️🖤
When my mother passed away I was very depressed. My wife was right beside me helping me process things. An ex from over a decade contacted me to express condolences. We talked and caught up for over a week. I hid this from my wife and she eventually caught me. Since this, she has never trusted me again. It's been tough and our marriage is failing.
Hello everyone! I'm new around here. Don't be shy to say hi 🙂
Greetings✨! I just joined this community - don't be a stranger!
I found out by my uncle he just lost his wife my aunty . I feel bad for him as since 2018 he lost his brother ( my dad), his mum ( my nan) , his stepdad ( my grandad ) , his mother in law and his sister in law . My aunty was a lovely lady . Unfortunately she lived a few hours away so can't really see my uncle. I will message him in a few days .
I need someone to talk to... Today is the 4th heavenly birthday of my deceased Godbaby Layla. She died at 5 months in April 2019 from SIDS.
It is a journey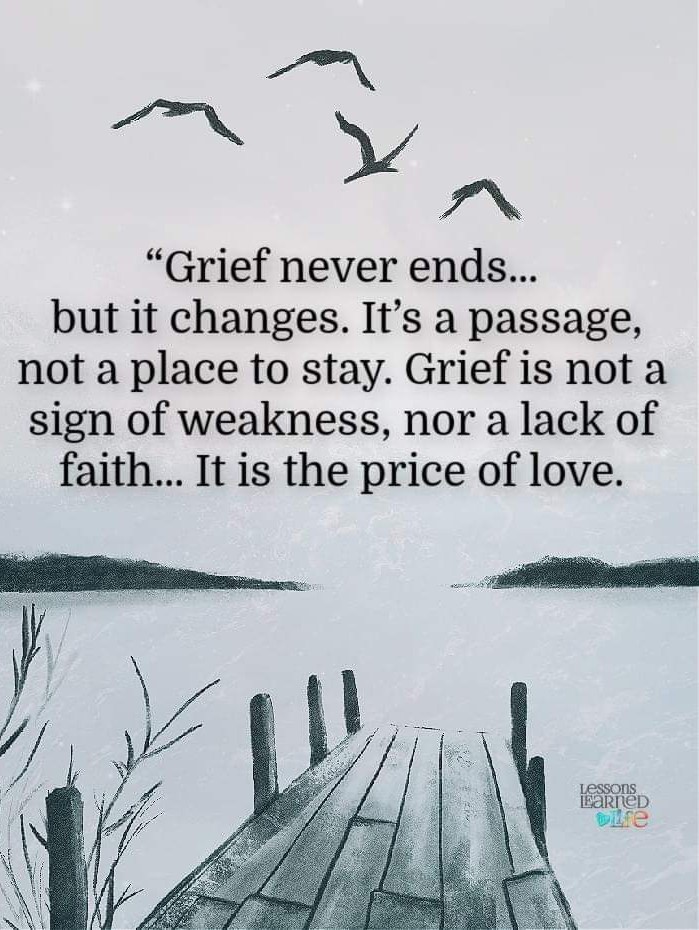 Hi all I'm new to this community. Nice to meet you all 😎
Hi! I'm new here. 🙂 Nice to meet you all!
Hi :)) I'm new here, nice to meet you !
This last week has been bad with losses. I lost my aunty ( my dad's brothers wife ) and now a childhood friend. I went away this last weekend and came back to the news of my friend. I have had so many losses since 2018 and most are not covid related. How do you cope with all those losses?
September 17 2022 one of my TikTok friends,followers,Snapchat friends and online Biker friend was recently killed in a motorcycle accident . I was very lucky to get to become friends with him and his biker friends and family . The only sad part about this was I just had messaged him 4days before the accident that took his life .
Hello everyone! I'm new around here. My name's Ria, I hope everyone here is doing well!