I went to a special meeting yesterday. It was really good. It was really insightful. There is something that she mentioned that I had forgotten about. I had forgotten that you are technically still in the early stage and new when you're within the first 5 years of losing your child. My son died in 2019. I had just gotten to the point last September where I was not overwhelmed by grief. I was in The grieving process but I was mostly healed. Something that she talked about was that being healed is not putting this tragic event in the past but being healed means that you were able to live again and actually want to live life. I never got to the point where I wanted to live life again. But, I was able to function on a day-to-day basis without too many overwhelming emotions. When my daughter died this past december, everything went back to square one. I don't eat anymore. I try to cope but my coping skills are not always the best. I have forced myself to have two pieces of toast today. I don't want to get up in the morning. I don't want to do anything. My mind goes blank. This is the reality of losing a child. I go to work and turn off my emotions so I am present and don't look like I'm about to break. I am physically nauseous and throwing up. I got myself sick with a 24 hour cold or stomach bug over the weekend. My body does this when I need to slow down. I really don't know how much longer I can handle this. And then, I thought of this quote. It is Italian but the translation of it says this, "In the end, everything will be fine. If it is not fine, It is not the end." So, as I choose to sit with my emotions this evening and not drink them away, I will think of this quote.
Hello everyone! I'm new around here. Approaching 2 years without my baby boy, he was 20 yo when he left us. Lost him to an accidental drowning. Still trying to push through this life,hoping to find/give help where I can.
Hi, i miss my mum even more as time goes on. She's been gone 29 years but it seems to just get harder every year. She was my best friend and the only person who has ever or will ever love me unconditionally. It would've been her 79th birthday next Wednesday and i wonder what we would've been doing if she were still alive. Does it ever get any easier? Will there ever be a time when i don't wish she were here when things are going badly for me?
I lost my best friend on Monday she had brain cancer. She only found out last week . I'm so heartbroken. I've been able to talk to many of my friends and had to have Tuesday off work. I've lost friends before but not as close as I was to her . Knew her at school since 1995.
Hello! My name is Kelsey. I just lost my dad and buried him today. He was my person.
I lost my brother in 2019 I'm just missing him ya know?
I can totally understand that.
I love about an hour from my dad and didn't see him as often as I would have liked… but I'm trying to wrap my head around the fact that he's not there any more.
And my Godmother to Aggressive Cancer .!!!
Hi there 👋 I'm new here - feel free to introduce yourself!
I lost my mom to a mental illness. I don't know if I want to process any of the emotions I'm feeling but then maybe I do because I'm here. I feel really confused, sometimes I get angry because of what she did but then I remember it's not her fault.
After a loss it definitely changes your life forever, after 2 years in I've noticed my response have even changed to simple greetings from random people, "good morning"changed to just "morning" responding to "how are you" changed to "ok" or jus "alright". I can't say that it'll ever get better but we have to try our best to get through our very difficult lives now and try to endure until we reunite with our loved ones at the end.
Howdy! I'm new to this community. Nice to meet you all 😎
Nice to meet you too Rawan
This is amazing. ❤ I spotted a red cardinal in a tree across from my house. It was singing so beautifully. Today we saw the same one in our front yard. Not to mention Friday will make 5 years since my Grandma passed away. Also the pastor we watch talked about red cardinals the same night.🙏🏽❤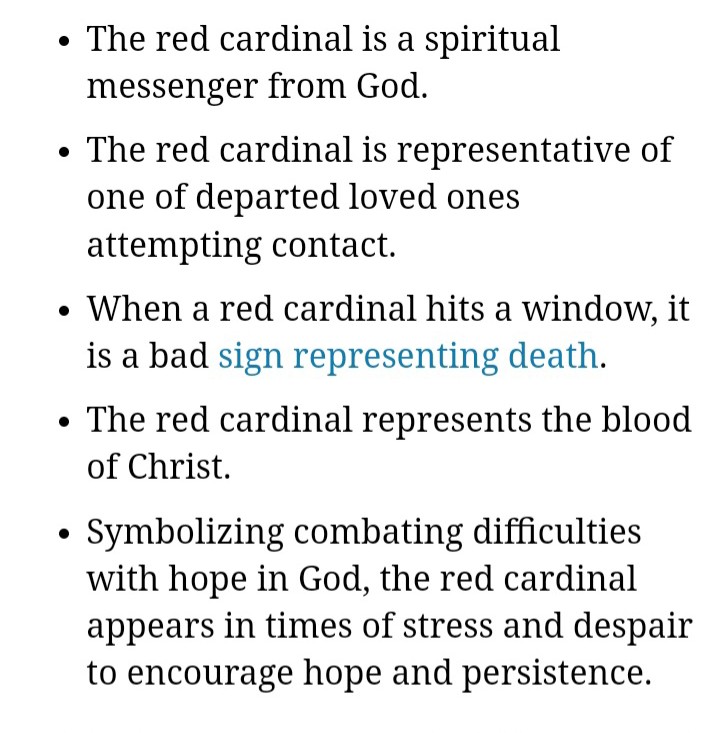 I will hold you in my heart forever Gram. ♥
Hi everyone! I've just joined this community. Nice to meet everyone!
I lost my mum a couple of weeks back. She past away in front of me in the hospital. I was alone and had no idea what was going on. She only went in for a simple procedure hence my brother and sister continued to work. I can't get those final images out of my head and I can't help but feel responsible. I was there and I can't help but feel I could of done something to stop it. I am overwhelmed with guilt! I let her down. I am starting to feel detached from everything and everyone. I don't think anyone has noticed but I don't feel a connection with anyone. I just feel so dead inside!
Happy Mother's Day to all the mom's on earth and in Heaven. Of all the gifts life has to offer, a loving mother is one of the greatest. My mom might be in Heaven but I still celebrate this special day by keeping her memories alive. Hugs to all the mom's all across the world.
Howdy! I'm new to this community. Nice to meet you all 😎
How is everyone doing today? 🌞
✨Here are 10 steps to love yourself again after a breakup from gratitude app. ✨ 10 Steps to Love Yourself Again ❤️ 1). Take your time with emotions 2). Don't pick up unhealthy behavior 3). Do all the things you loved 4). Forgive yourself 5). Give up hate and anger 6). Stay close to your friends 7). Work on yourself 8). Self-reflect 9). Free yourself from their voice 10). Practice gratitude for yourself
This coming Wednesday is the funeral of my best friend. I went to see her boyfriend today with my other friend. It was the first time I've seen him since my friend passed away but I spoke to him a few weeks ago for 2 hours on the phone. He looks like he's looking after himself more but only eating one meal a day . I brought him some chocolate so he would eat something. He was very happy for it and too see me and my friend. I'm dreading the funeral. I have some good friends taking me there .