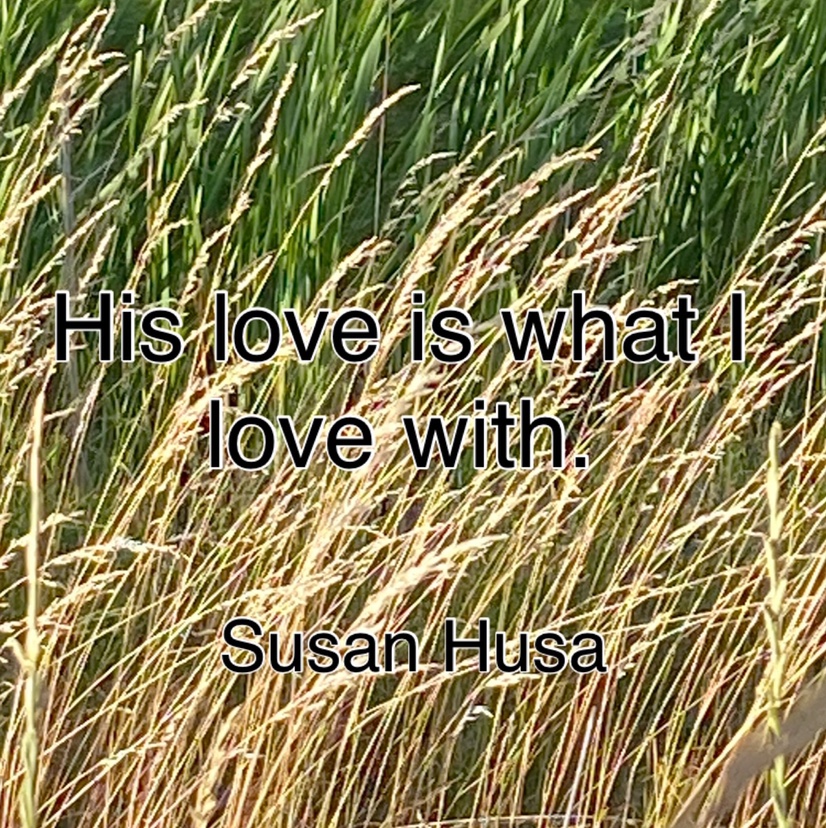 God's love is abundant. Grieving is the emotion of love. Feeling the angst can be overwhelming. Be gentle with yourself. It's okay to show yourself empathy. And slowly embrace the most beautiful memories. Softly caress your grief. Be gentle. Allow yourself to slowly embrace each moment as it unfolds. There is a big difference to engage now. Slowly engage in each moment feeling fragile. Ask people to be gentle with you today. Call your friends and ask to have them just be with you and listen. Let them know you don't need advice. Ask someone to just hold you for a moment. Or lean over in their shoulder for as long as you need. I like to curl up, close my eyes and ask Jesus to hold me. I love those moments. I feel the most held when I ask Him to hold me. Know that slowly you will make things unfold. Accept the difference now. Allow your thoughts about the one you miss to enter. Acknowledge your thoughts. Then know not to dwell rather accept. Since I have the hope of eternity, frankly I smile for what is to come. Be in-spirit with them. Know all is well. Continue on knowing you have a special purpose to tend to. For now, you may feel like you carry a heavy load. Acknowledge that! It's okay even though it doesn't feel good. What a joy-filled moment though when you remember the joyful feelings you shared. Acknowledge once again. Reminisce. It's ok. Rest. Be gentle. Much love to you today!
Thank you for posting this Susan. I have a troubled relationship with God anymore. Maybe you can actually help with that, if youre up for it, and please try to roll with the earthy way I express myself. And please know that none of this ranting is meant to be directed AT you, but yes - I am ranting. First of all, it seems incredibly hypocritical of me to love God when the sheets hitting the fan all over the world but when my sheet never stops hitting the fan suddenly god's a creep. Like "wow; gods an ass hat. Who knew?" 😂😂😂 So all this sheet keeps hitting my fan without relent. And it's all according to his plan for my greater good, his ways are mysterious…. Wait a minute! If I was dating a guy who let something crappy happen and when I asked him why he told me "my ways are mysterious" there's not a woman in the house that wouldn't say "don't date him girl". "Run!" "Grab your keys!" "Lace up those tennies..." Quite frankly, "GTFO." And some of those Bible stories are so crappy! You really turned those kids taunting you in to pigs and the lesson in that is....? Job! Total ass hat story. Totally. What a wanker! And blessing him afterwards made it all right? I call bullshit. Why on earth should I worship someone who clearly needs a serious time out and reparenting? Let Mary run things for a while and see how we get on. If you would be so kind as to share your perspective I will work at being open to it....
Aw! What you have for perspective is for you. What I have noticed over time in the stories is how they are no different today. What always comes to me is, DANG! If only I could love like Jesus. And then I remember, Oh! We become like Christ as we develop. The realization of greed, and "my way" or basically anywhere where love is not present, affects. So, here you and I are. Wishing it was like Heaven. And furthermore what I am coming to know is that from within, and my connection to Holy Spirit is really what grounds me. And as I seek, I do grow stronger. Today for example, if I could just be brave and ride my bike to the end of the trail! If only I could trust that God would see me through and keep me safe from predators. Either animals or people, then I could have the freedom to roam the planet wherever I want with no fear. So tomorrow, I will attemp again. Fear came after seeing a women walking alone. I was so thankful to have the encouragement that if she can I can. And then, all that I clung to was fear! I prayed to God that I was sorry. I want to be SO settled that even if someone did want to take me away and make me a prisoner or harm me or whatever, drop the fear and know that living for eternity had me with no limits. I want to trust that whatever happens is ok. And that my friend is faith in Christ! So THAT is an example of my day! Thank you for the blessing you just placed for me in my life to share this vulnerable story with you. For this is my truth. Let's say I am not a victim rather a wounded child that added fear when her dad left the home. I lived my life and still undoing today the fear that crippled me because I was afraid. I'm slowly returning to childlike behavior where there is no fear. The undoing takes time. That's why now I am a life coach. My life has been tumultuous and through faith and the help if others I am overcoming. No drugs to help! All by faith! Amen! Much love to you!
This is so beautiful! Thank you so much for sharing this great wisdom .