Loading...
I won't have sex cause I know the men will use me to as their taboo, experimenting with trans woman. Now I'm truly focus on my self and some times i will search on dating site but I know not to keep my hope up. Now I hope to get money to do electronlysis on my male part and be hair free by the time I have schedule surgery date for vaginoplasty.
Hello, I've joined because I want to try and support anyone on here, I want to try and help people to understand themselves
I'm questioning my gender 😕 somebody help me
Happy national coming out day ❤️❤️🥰 proud to be a girl
Hello. I hope that it is okay that I joined this group. I didn't join for myself. I joined so I could get better advice on and learn how to help one of my students (if this isn't okay I'll leave, just someone please let me know). If there is anyone who would be willing to talk, please let me know. I just want to make sure my classroom is as safe as I can make it for all of my students.
4 Replies
CW Sometimes, I don't feel like I'm going to make it. Like it'll be too late to transition into her. Other times, I feel like a fraud. As if l will never be a real woman, like transitioning is just a human intervention of nature. Or that my reasons for transitioning really aren't valid. I don't even know sometimes. I wish there was someone who could shed advice. It's not like I identify with everything that's feminine, I don't really care for dresses or anything that's too girly. But at the same time, I don't really identify with being male, nor non-binary. Being attracted to the opposite sex just makes things harder because I hate my male body around them. I keep comparing my features to hers and feel like a much cruder, uglier human being. I mean no offence to anyone when I say this (hence the CW at the top of the post) but these are my real thoughts. Because I identify with feeling feminine, I'm not gay (as a male, anyways) and I was a fairly sensitive person (was, before I was prescribed a pretty high dosage of SSRIs) I really cannot cope in this world with my male body. People misunderstand me, no one gets me, I'm always ending up alone and hating who I am. I've self harmed before, attempted suicide, even now that's not out of the question. I'm only sticking around because hopefully there is a chance I can fund my full transition (this will take 2 or 3 years at the least) and start over, perhaps with the identity that suited me all along. And a disclaimer (again, no offence intended please!) I DO plan on getting bottom surgery, it's not like I want to run around women's restrooms 'pretending' to be one like literally half of Twitter claims trans people do. The conflicting feelings are sometimes unbearable and I sometimes wonder if I'm going to survive long enough to make it.
5 Replies
Hello friends I guess the pandemic have really been a tough one for us, I see people saying they lost their jobs and all and it's pains to hear that, well I have been investing with this company for a while now and they have been able to help me through this period so if you are interested in knowing how this works chat me up.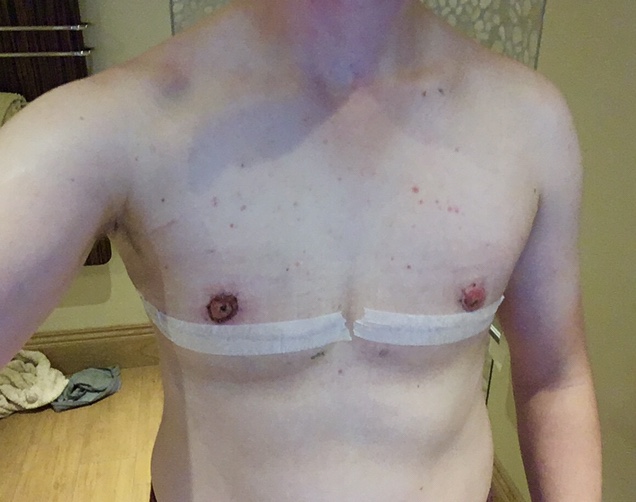 Finally, 8 years later, it's done! Now I've just got to get fitter and trimmer and I'll be where I want to be! Anyone has any questions About top surgery, feel free to message me 😎
4 Replies
Hey everyone, I am not really sure what to do in life anymore. I need some advice on being trans and everything.
Transitioning to female is hard and emotional draining. I want a boyfriend or a husband. I want to be able to look more female with out being misgender all the time. I wish I have good credit and be able to find a place to live so I won't be walking on egg shells living with my sister. I want to be able to apply for a loan and use the loan to do transgender related things such as hairline correction to female and start my electronlysis hair removal so I can be ready for my appointment and be able to schedule for surgery quick.
Where's the best place to move to, to transition without huge waiting lists?
4 Replies
It's transgender awareness week transgender girl rules ❤️❤️❤️❤️❤️❤️❤️
dysphoria really do be hitting hard today 😪
I'm in denial about being trans because I want a "normal" life and I'm scared of doctors. I need help
Ive be in a crisis for a few months now where i think im trans but im afraid to start presenting as female and tbh i dont even really know how id start. Im scared of having to tell my family, i never even came out to them as bi even though ive been out to everyone else i know for years.
I just wish I transitioned way earlier, but my family would have disowned me. I look younger for my age which is a plus but still, I wish I had more years in my life as my beautiful self and not this shell of a person
/rant I legit can't believe the UK is so backwards. Almost all private healthcare insurances explicitly don't include transgender stuff, and the NHS waiting lists are a sick joke. Just want to get the fuck out of this mess of a country and start a fresh in somewhere where it doesn't take two decades to get an appointment for HRT
If you want a chat, message me.
I can't stop crying. My partner is next to me. She's sleeping soundlessly & I'm trying not to wake her up in anyway. I just get so dysphoric sometimes... because I wish I could have a penis but bottom surgery isn't doable & im okay w my top half & I'm okay with the cloak of womenhood saving me from backlash. From getting cis men to protect me more or wanna do things for me because they think I'm a straight cis women or bi. I'm crying cause I just wanna touch her in ways I can't. I'm crying cause she's bi & I'm sapphic & I wanna be a feminine male but I'm in this female body & trying to be masculine but it just feels like I can't do it right. I just feel like I just wanna be the man of her dreams but I also get such conflicting feelings. I just wanna release this.
5 Replies
Ive been working a lot with my therapist about confronting my feelings instead of just ignoring them and letting them fester. Ive started constantly thinking about transitioning and Im terrified, I dont know how itll affect my life and my relationship going forward and I just think itll make everything more difficult. Im already struggling to make friends and find a relationship and I cant see this making it easier. Im just scared and depressed all the time and I cant get it off my mind.
2 Replies
I just want to transition while I'm still young 😪
3 Replies
I'm nonbinary and asexual, with no plans at the moment to medically transition. My partner is a transman who's been on T for a few months now. We've had discussions about sex before where neither of us were really interested in sex, but now he's started to have more sexual urges and is confused about what to do about it. I have no idea how to relate to this or where to begin supporting him aside from a general 'I'm here for you'. Any advice on how to help him? And anyone who's been on hormones before, what would you have wanted to hear from a partner at that time?
I hate when boys are so kind to me and then go like "you're still a boy" "I don't like people like you" etc.... it really brings me down even on my best day. I feel good and beautiful until they say those things.... why they gotta be so rude?
3 Replies
Hi all!! Just introducing myself. My name is Ursula. I'm from Missouri and I'm here to help brighten your days and make them a little less miserable
I have a question about becoming a women from a male.
11 Replies
Hi guys I was hoping someone would be able to help me. My girlfriend is going through gender dysphoria. She has always felt this way, as though she is a boy trapped in a woman's body, or like her genitals have been chopped off. She was ok with it the last year but recently at the end of a 2 year waiting list she got a call from a community saying she could finally get some therapy. This has unearthed a lot of pain and she's struggling with it a lot now. I don't think she wants to go down the route of surgery, or even transitioning. I don't think she's sure if she wants to anyway. I think because she feels as though if she did go through hormone taking and reconstruction of a penis, that she'd probably have no sensation in it anyway so it wouldn't even fix the problem. Has anyone felt this way? If so how have they dealt with it? I really want to help her out. She doesn't even want to be called he. But I think she's just not sure of anything because it's the beginning of this journey for her and she's really scared.
1 Reply
Hi everyone, i need some help so i joined this app. 8 months ago i started taking hormones, MTF. and i havent noticed any effects? Physically. My blood checks show my oestrogen levels have increased and testosterone is slowly decreasing. But when will i notice changes? My dysphoria is so painful everyday looking in the mirror in a mans body. Please help.
Hey beautiful people, if anyone needs someone to talk to especially in these lonely times I'm here even if it's just to talk about a nice meal you had during the day or just someone to vent to I'm here to talk my messages are always open ❤️
I am really struggling with this rn
Confusion and being in purgatory is hell, it's hard to function
I think I might bite the bullet and go on hormones, finally. I can't take this anymore and I was seriously thinking of killing myself this week. I'm going to map out a plan about my transition and see what I can do
2 Replies
What if I changed my gender how my girlfriend would like it
I'm so fuckd Due to my unsafe and life threatening circumstances I never had the opportunity to even express myself let alone transition. I feel I'm in a limbo/trap
Hi everyone, I'm here if anyone ever wants to chat. Don't worry about the timing or content. I'm in British Summer Time and will reply in the day if I get something overnight.