Good Morning You Beautiful Souls! Wednesday is traditionally the day of the week that "drags" most, but don't let it, make this day yours. your strong enough to see it through, I know you've got this, I BELIEVE IN YOU😁Drink some water today and take things one step at a time👍👍
Wishing everyone a nice weekend, stay strong.
Dealing with Unexpected Change- Change at any time can be confusing, unsettling or stressful. Unexpected change can bring on disorientation, shock, or emotional chaos. Join us at Joyful Living as we discuss sudden change and how to deal with it. Monday October 3 at 9 am Central Time. Joyful Living in communities.
@k3vin wishing you a safe and happy week. Hugs Lilly.
Just finished my gambling meeting it was a good night but uncomfortable as I have bladder problems which is embarrassing.
Change, whether it's positive or negative, can create stress that affects both your physical and mental well-being. Sometimes this can even lead to unpleasant symptoms such as anxiety, sadness, and headaches. This is why you might find yourself struggling even after a positive change has happened in your life. Join us at Joyful Living at 9 am central time, on Monday October 10, as we discuss change induced stress and how to handle it.
Happy Monday!!! It's the beginning of a new week and new opportunities!! I know you can grab them. You deserve nothing less than the world!! Make sure you drink some water today and take things one step at a time!! I BELIEVE IN YOU 😁 👍
I've always wanted to travel to America just for a break from where I live, too expensive though lol.
It's been a while since I've posted anything. Although it's important to not dwell on the past and embrace the present moment. I hope everyone has a good day!😁☀️ 💝
How is everyone's weekend? I'm at home still recovering from the cold lol.
Hello. Change can be overwhelming at times. It can also cause health issues like stress, headaches, stomach problems, depression and more can occur if you are not able to adapt and accept change. Join us at at Joyful Living at 9 am central time Monday (10/17) as we discuss change and your health.
Welcome to the weekend family. Have a great time and remember you are the most important person in your world. Take care of you. Hugs Lilly
I'm grateful for having someone at work who is always smiling, it's insane how much of an effect having someone around who is always so positive and uplifting is. Everyone needs to hold on to these people. Smiles are infectious and it's that exact small step in the moment that can change an entire outcome. A random thought I know! But one I felt I should share! Heres everyone's smile (😃)
HAPPY WEDNESDAY YOU BEAUTIFUL SOULS!! We're halfway through now...starting to get to the downhill side of the week. I know you've got this today, I BELIEVE IN YOU!! Make sure to drink some water and take things one step at a time 👍😁
Just finished another gambling meeting tonight went ok managed to speak about a lot of things.
I love you like a fat kid loves cake :)
I really hope that something makes you happy today I hope life gets better for you what every you going through and I really hope something brings smiles on your face and I really find some happiness today
Happy Halloween everyone! I'm too old too go out so I'll watch some horror movies lol.
Fear of Change Without change there is no progress, but change often invokes fear and anxiety. Join us at Joyful Living on Monday (10/31) at 9 am central time as we discuss how to conquer the fear of change by mastering the steps of transition.
Happy Halloween Yall! 🎃 hope everyone dressed up and had fun! 🐈‍⬛️
Hey you! you know those demons? the ones that pop into your head to tell you that your not worthy, that your not enough or any of that other stuff? Tell them to pop off. Your perfect and you deserve to know just how amazing you are. No one is allowed to make you feel like less
By being mindful you can live in the present. No regretting the past or being afraid of the future. We know the past can't be changed and the future is not here. The present is where we are and mindfulness can help us to find joy in the now. Join us at Joyful Living as we discuss what mindfulness is and how it can help with worry, stress and anxiety Monday (11/ 7) 9 am central time.
💙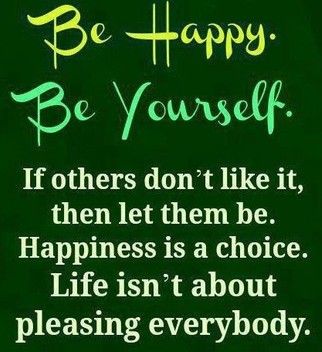 MindfulnessMatters Many people who practice mindfulness site decreased stress, increased ability to relax, a greater enthusiasm for life and improved self-esteem. Join us at Joyful Living on Monday (11/14) 9 am central time as we discuss mindfulness and why it matters.
Hello everyone! I'm excited to be here and to get to know you all💜
This week if you know you might be in stressful situations (relatives, a big dinner with family and friends, uncomfortable conversations, etc.) make a plan to use mindfulness to control the stress. Take the dog for a walk. Go to the bathroom and breathe. Hug some babies.  Find what works for you. Join us at Joyful Living on Monday (11/21) at 9 am central time as we dive a little deeper into mindfulness and learn how to use it to help with stress.
I've been with my boyfriend for almost two years now, I have really bad anxiety and basically what I'd call "ptsd" of what I grew up watching, my dad being a liar, cheating on my mom, all this all that, my boyfriend is AMAZING to me, no doubt, in the beginning I'd get nervous he wasn't loyal, but he's proven over time he would do anything to show me he's loyal, but now my worries are "what if he doesn't love me that much, what if he doesn't wanna be with me that long, what if he's getting tired of me" he's nothing but amazing to me and I'm consistently worrying about losing him or being hurt by him or being let down, and I just don't know how to stop it. It's just the best thing I've ever been in and I would 100% spend the rest of my life with this man.
Stay strong you amazing people.
I'd love to travel abroad by myself next year but I know flights etc can be expensive lol.
Lord please bless this day ahead of us.
Is mindfulness difficult to learn? Mindfulness helps you feel more in control of thoughts and emotions so you don't feel out of control. You have to slow down and notice, without judgment. Mindfulness isn't complicated – but it can be challenging. You can get started in an hour Join us at Joyful Living at 9 am central on Monday (11/28) a we take on some of the most frequently asked questions about Mindfulness.