MindfulnessMatters Many people who practice mindfulness site decreased stress, increased ability to relax, a greater enthusiasm for life and improved self-esteem. Join us at Joyful Living on Monday (11/14) 9 am central time as we discuss mindfulness and why it matters.
Making new friends🧑‍🤝‍🧑 I have been trying this year to get out there and make new friends. It's been quite a challenge but here are a few tips I tried. Reconnecting with old friends and inviting them for coffee. Joining a club or sport. I just started rock climbing Speaking to strangers even just the cashier at the shops. This just helped with my confidence. Do you have any tips or suggestions?
I pray to Lord to keep you safe throughout the night and bless you with a good night's sleep that will wash away all your stress. May your heart be at peace. Good night
What frustrates me with the world in general is we are so caught up on technology that we've neglected all the simpler things in life that matters,taking your time instead of always being in a rush and learning to relax more.We become sad because other people ignore us when we just need someone to talk to to site there and listen and have care and compassion for our needs.Instead of just Turing a blind eye,or turning you back on someone take that couple minutes from your busy schedule and ask if the person is ok and if they need anything from you as far as advice don't be afraid to ask.When I worked in an assisted living facility the residents were so sad and crying because they felt alone and neglected.I would go deliver food to them sit there for a few minutes and stop by and say hi,that little gesture meant more to them than anything.I wish people would stop for a minute and stop judging the next person before we are ready to judge ourselves.Just because you may have more material wealth than the next person,they poses spiritual wealth and because of that they appreciate life more instead of letting life go by.There are a lot of things I wish I can see and do and I'm determined to live my life and do
it.My
dream eventually is to travel to Norway sit on the grass in the springtime and see how beautiful the Northern Lights are in person
Came across this and felt better after reading it. Hope it makes you feel better about the past too.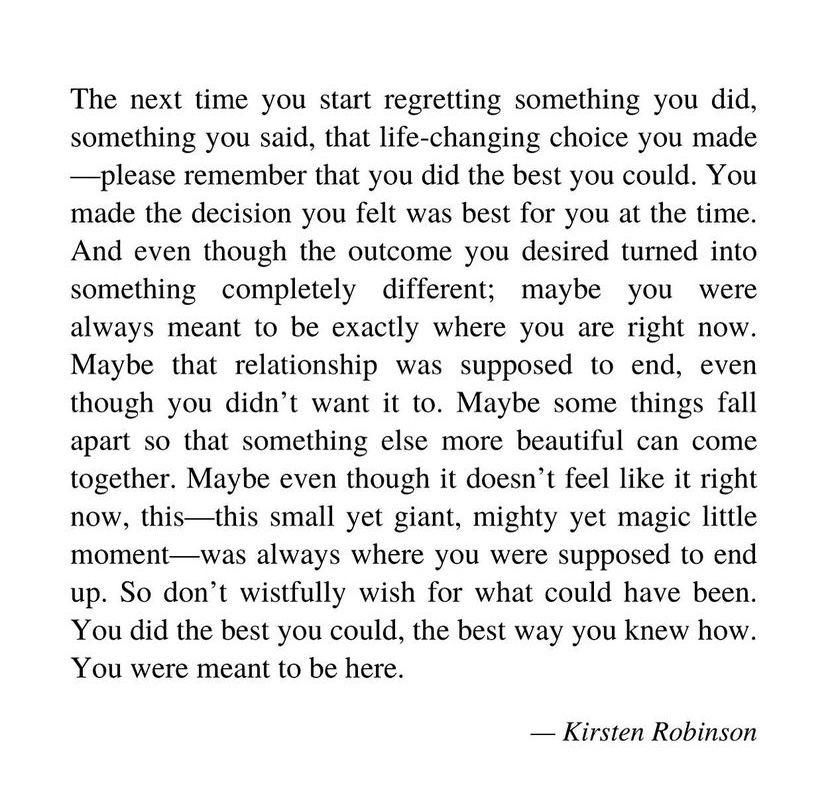 You know, I know this will sound petty but I hate when I go into a store, especially a small one and some couple comes in and is just hovering over the section I want to look at, and then go hovering over another section and just talking all couple like and stuff. I know I sound pathetic but I really hate not being worth love and acceptance.
Loneliness is something that you never really get use to even when you are used to being isolated
This week if you know you might be in stressful situations (relatives, a big dinner with family and friends, uncomfortable conversations, etc.) make a plan to use mindfulness to control the stress. Take the dog for a walk. Go to the bathroom and breathe. Hug some babies.  Find what works for you. Join us at Joyful Living on Monday (11/21) at 9 am central time as we dive a little deeper into mindfulness and learn how to use it to help with stress.
I feel that my not having any close friends is all my fault. If I hadn't been an introvert and low on self esteem probably more people would have liked me! I'm trying to put myself out there now but I guess it's too late. I'm no one's 'go-to' friend and have nobody whom I can call when I'm low.
Hey guys, I'm new here so this is my first post. Have you always felt unapproachable, or even invisible? I do all the time, It feels like people are never interested in knowing me or are scared to approach me.. Even people who I call my friends, sometimes it feels like they don't care how I feel, as in I can tolerate anything, nothing can affect me, and it's hard..been having a hard time especially that I have a sensitive side and some days every small thing can make me sad. It's been like this since I was a child. I honestly don't know why I give the impression that I can't be "moved"
Well it's my birthday today and i cant feel more lonely...
Spending my holiday alone,I decided since my roommate doesn't know how to cook I got a roast in the oven and he brought sides for tomorrow but I told him I'm cooking it tonight since I'm just going to relax we can always re heat the roast and eat For those of you that are alone you are never alone because even if I don't know you my ❤️ goes out to you because there is no need to be sad and lonely especially during the holidays ❤️
I didn't go to work today... Didn't even give them a heads up that I won't be in today. Just fell off the face of the Earth these past couple of days.. I'm terrified about whatever is waiting for me tomorrow morning. Can't get any sleep, Im trying to sober up as much as possible before I have to show my face there again.. Assuming that I even still have a job. I was referred this resource by a crisis counselor tonight. Just putting some feelers out there... hello everyone, I hope you're all doing ok tonight.
Dear friends You're invited to the virtual Thanksgiving dinner at the Managing Holiday Stress community. You are not alone. Your Wisdo family is here to share the day. So join me , Lilly, while I cook virtually (boy are you lucky) lol If you are with company today and need to destress drop by. Venting us welcome.
Wisdo Fam! Happy Thanksgiving!! Even if you're alone like me. Choose to have the best day possible and think of all the things you are thankful for. For example, I'm thankful for this app. There are people out there that don't have access to this community. Remember, things can always be worse. I love and appreciate all of you!!!
i hope that you feel loved today—whether it's up close and personal, or from a distance.
I'm hoping your day turned out well
It's been to long since I have had a decent conversation with someone. Just feel like crying
Hi all just recently been struggling to carry on as my depression keeps kicking in
Hey all! I'm new to this community. Nice to meet you all 😎
The worst part of my day is waking up alone, the hardest part is remembering what it was like to be happy and feeling like it's now unachievable
Is mindfulness difficult to learn? Mindfulness helps you feel more in control of thoughts and emotions so you don't feel out of control. You have to slow down and notice, without judgment. Mindfulness isn't complicated – but it can be challenging. You can get started in an hour Join us at Joyful Living at 9 am central on Monday (11/28) a we take on some of the most frequently asked questions about Mindfulness.
I can't do holidays because even as a kid I felt like an outsider and it wasn't because of my parents it was the rest of my family especially on my moms side.We were dirt poor so we were considered the black sheep of the family even though we never disrespected anyone and treated our family w love.They we're just a bunch of hypocrites who only came around when their concise was eating them alive and it was sad seeing mommy cry making all this food when my family said we are coming over and they never showed up but wanted to pop up unexpectedly and acted like they weren't in the wrong treating us the way they did.I only had one uncle that made sure we were good and cared for and he will forever be my favorite it just pains me that I had to sit there and feel so horrible inside
Happy Wednesday you Beautiful Souls!! The middle of the week is here, don't let the mid week dulls get you down. I know things are rough, but YOU are amazing. Don't let anyone tell you otherwise. I BELIEVE IN YOU!! Make sure you drink some water and take things one step at a time
So my boyfriend may have to move out in the next couple months (where I won't be able to go with him) which will leave me alone. I asked my friend if she would be willing to move in and she said she can't. I don't want to live alone, especially because where I live, there's a lot of shootings and violence. I also have no idea how to cook. People have showed, but I've never attempted on my own and I don't trust myself to try it alone. I also have health problems where I worry something may happen to me when I'm alone and then no one will know. But it seems like living alone may be my only option. I would consider moving in with my father, but I have a cat and my stepmom is highly allergic and has tried taking allergy medication regularly which has temporarily worked in the past, but her allergies began acting up again. I even briefly thought maybe I could go with my grandparents, but again not an option because of the cat primarily. And no, I am not giving up the cat. Soooooo I basically just feel super alone right now and am worried for the future.
Well hello again people.. I'm back,, been dealin wiv alot... Anyone needs too chat I'm here fo ya..
Holidays can be a mix of merry and bah humbug. This holiday season your WIsdo team has put together a month of fun, support and celebration. Join us on zoom to get to know your friends and family. GO to the Wellness sessions group for the dates and times for all of the events. the zoom link is there to click on. We will be baking cookies and making christmas cards and so much more. Take the time if you can to come an meet your team and members for a bit of fun. If you have questions let me know I am here to help.